First of all, you can get Annette Laing's A Different Day, A Different Destiny on Kindle for FREE until the end of November (that's Friday). Click HERE
to go straight to the Amazon page.
Of course there are three books in The Snipesville Chronicles -- Don't Know Where, Don't Know When; A Different Day, A Different Destiny; and Look Ahead, Look Back. You can read more about them HERE. They're a great gift for any reader 8-12, although I've heard it rumored that smart grown-ups like them too.
Also, Annette has a really cool webpage where you can learn more about her and her work sharing Non-Boring History with students across the globe. Though, frankly, this photo says it all: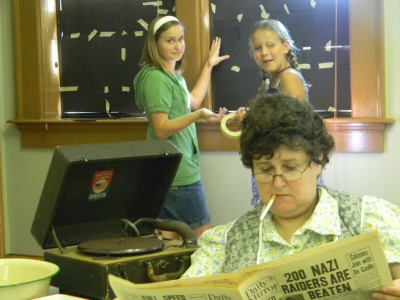 AND she has a blog! You can go and read it right now! Plus you can enter to win a gift certificate for chocolate! All you have to do is visit THIS STATUS
on her FACEBOOK
page and follow some ridiculously simple instructions to be entered.
And that's the news from Snipesville. You're welcome.